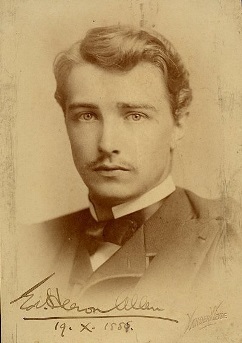 Edward Heron-Allen 1886
News and Events 2021
March
The Annual Heron-Allen Lecture which is usually held in March at Lady Margaret Hall, Oxford, was cancelled due to the pandemic. It is hoped that next year's lecture will take place in March 2022.
May
Following their publication of the Complete Short Stories of Edward Heron-Allen, Snuggly Press have this spring published Three Ghost written Novels by Edward Heron-Allen, with an introduction by Daniel Corrick. The volume contains The Princess Daphne, Bella-Demonia and The Vengeance of Maurice Denalquez. The book will be published on 4 May and will be available from Snuggly Books.
July
The Society's 20th Annual Symposium was to have been held on zoom on Saturday 3rd July. Talks would have included 'Edward Heron-Allen and Bram Stoker' by Joan Navarre and 'Edward Heron-Allen and the Loch Ness Monster' by Timothy J. McCann. It has now been postponed until later in the year.
The Society's Newsletter No.38 was published. Articles include: 'Edward Heron-Allen War Propagandist' by Brian Hulan; 'Oscar Wilde's Letters to Edward Heron-Allen' by Timothy J. McCann and 'Memorable Meals' by Ted Collins. Also included are notices of new books and Valete on recently deceased members.